Aerial Equipment
Need to Reach New Heights?
G&W Equipment carries a variety of industrial scissor lifts and boom lifts in our rental fleet. We specialize in plant shut down inventories and high quality lifts for facility maintenance.
All our aerial lift equipment is stored in-doors so you don't have to worry about old, rusty, worn out equipment.
Interested in purchasing or leasing a new, or rental retirement lift, we can do that too!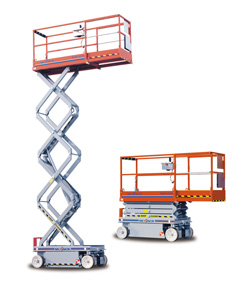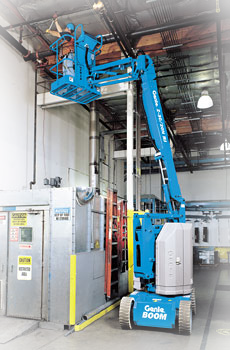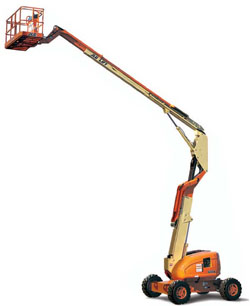 Skyjack manufactures a full range of aerial work platforms and telehandlers. Our two vertical mast lifts compliment an established lineup of electric on-slab scissor lifts and rough terrain scissors lifts.
Vertical Mast Lifts
DC Electric Sissors
Rough Terrain Scissors
Articulating Booms
Telescopic Booms
Telehandlers
---
JLG has long been a pioneer in producing environmentally friendly lift and access equipment:
Engine Powered Boom Lifts
Articulating Boom Lifts
Telescopic Boom Lifts
Electric & Hybrid Boom Lifts
Compact Crawler Booms
Articulating Boom Lifts
Telescopic Boom Lifts
Toucan Mast Boom Lifts
Low-Level Access
Non-Powered EcoLifts
Push Around Mast Lift
Personal Portable Lifts
Vertical Lifts
Push Around Vertical Mast Lifts
Driveable Vertical Mast Lifts
Stock Pickers
Push Around Stock Pickers
Driveable Stock Pickers
Scissor Lifts
Electric Scissor Lifts
Engine Powered Scissor Lifts
Towable Boom Lifts
Telehandlers
JLG Telehandlers
SkyTrak Telehandlers
---
Genie products do more than just change how the job is done — they can change the job. Known for developing innovative products that make work at height more productive, Genie® product innovations continue to change the market and set the global standard for quality, reliability and safety in aerial lift equipment.
Genie®Xtra Capacity™ (XC) booms
Telescopic Boom Lifts
Articulated Booms
Slab Scissor Lifts
Rough Terrain Scissor Lifts
Aerial Work Platforms
Vertical Mast Lifts
Material Lifts
Telehandlers
Trailer Mounted Booms
Light Towers