Our online parts store gives you 24/7 access to the forklift parts you need to stay productive.
G&W offers a convenient resource for ordering forklift parts from CAT®, Mitsubishi®, Jungheinrich® and other dealers' parts departments.
Search by part number, make, model and part type.
If you need forklift parts for your fleet, opening an account gives you a direct line to supply your needs. Your parts are shipped directly to you or can be picked up at your local G&W branch.

G&W offers Promatch aftermarket parts. We guarantee 100% satisfaction. With Promatch parts, you get reliable parts that match original equipment performance.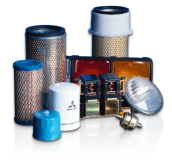 We are an authorized OEM parts distributor for CAT® Lift Trucks, Mitsubishi®, Jungheinrich®, Kalmar, Big Joe, Bendi, Drexel and Princeton.
Get your parts fast. Parts are stocked so you can get them quickly. If the part can't get there the same day, you'll get next-day delivery or the part is free.
If you need assistance in selecting the right part, or have questions about ordering parts through the G&W online parts store, we are ready to answer your questions or respond to your needs.